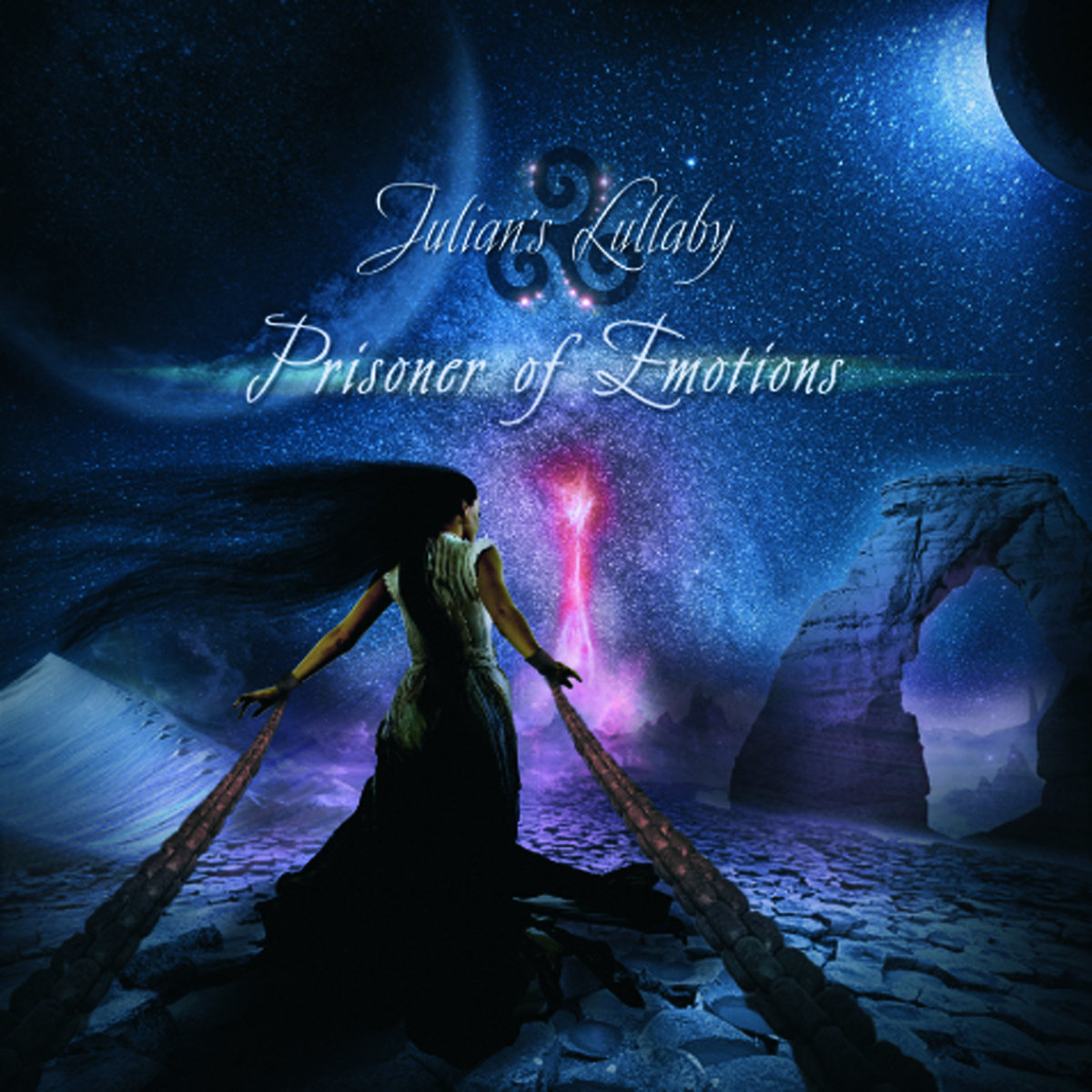 Review by Ryan Murray | 4/2/2020
Julian's Lullaby, a symphonic rock band from Athens, Greece, released their 2nd album "Prisoner of Emotions" in 2017. I had never heard of this band before, but really enjoyed listening to this album, especially the instrumentation.  

This band has a nice mix of symphonic rock, power rock, folk and even an ethereal sound at times. I really enjoy the arrangement of strings throughout these tracks! Lullaby's vocals are very nice overall, and at times even more classical. Saddler's vocals give me a vibe that mixes between Type O Negative and Iced Earth. Lullaby and Saddler really seem to compliment each other nicely.

Angel's East
This opening track had a really nice intro which I really like a lot. I almost feel as though this intro belongs in a film score. The drums sort of remind me of the intro to Tarja's "Victim of Ritual", only slower. Mixed between drums, strings and synth, it builds a nice atmosphere before the guitars coming roaring in at 1:14. The power rock guitars throughout the song blend really nicely with the strings/synth.

There's a really nice keyboard interlude at 3:34 and an awesome guitar solo at 3:52, both of which really add a lot to this track! The strings at the end of this interlude section are beautiful and really sound great before leading into another lead solo which is also great! 

Curse of Gods
Not my favorite song. This song brings it down just a bit tempo wise, but still has strong instrumentation throughout. This song sounds like it's from an epic role playing video game battle scene. This song definitely gives off an Iced Earth vibe musically. 

Death Angel
The intro comes off as power rock, but then there is some tight double bass kicks with very ethereal sounding vocals from Lullaby. Her voice is light and airy at first, but of course kicks up as the track progresses.
I REALLY like the strings on this track. 

This song is a bit slower, and with that you get a bit more of a glimpse into these two singers' emotions.

At 3:33 it backs down into an acoustic feel with strings and Lullaby's voice really shines from here to the end.

Domino
This is probably one of my favorite tracks on the album! It starts with a really strong, epic string/synth intro. Then the drums join in followed by power guitars. Lullaby's voice feels a bit more classical in this song, and has some moments of early Tarja vibes (from early Nightwish).  

I really enjoy the vocals on this track. Lullaby and Saddler  seem to really click together more so on this song. Not to say they don't in other songs, but I really enjoy the vocals on this song a lot. 

Eyes of Gray
Time to bring it down a few notches. This song starts off with an acoustic guitar and strings. There are definitely some folk vibes/melodies here, and it's a nice change! 

Lullaby's vocals join in with some power chords on the guitar, but nothing too heavy. 

Saddler joins in at 1:40 as the track picks up a bit more, but just when you think it's really gonna kick it up, it pulls back down again. I really like the dynamic that creates. 

Hanging Crown
So on this one, I have a hard time not hearing Lindsey Stirling with the string part during the intro. Then the guitars kick in which kicks this one up a notch. The bass is quite noticeable on this one too.
This song hears Saddler opening up and at 1:08 Lullaby joins in. The strings are really upbeat and uplifting throughout this entire track. There is also a lot of noticeable double bass on this one which sounds really cool with everything else going on.

A string solo kicks in at 2:53 with some chugging guitars in the background. Again, the violin playing really sounds like Lindsey Stirling at times and this is another time when it sounds like her.

Hell's Door
Another one of my favorite tracks due to the middle of the song. This track starts off with a hard guitar riff and sees Saddler opening lyrically with Lullaby over him with very light and airy, non lyrical singing. Lullaby using a more classical sound again this time around and it suits this track nicely. Saddler sounds very Type O Negative like on this one.

At 2:33 everything backs down and we hear what almost sounds like a chariot trotting by, with a very ethereal sounding instrumental. Then Lullaby and Saddler have a bit of a duet with very laid back and light vocals. Guitars kick back in around 4:46.
 
Towards the end at 6:45 a sweet guitar solo comes in. The track begins to fade with a double bass kick and some pinch harmonics. 

Prisoner of Emotions
The title track has an intro that I really like. It starts off with the creaking of a door which builds right into a string tremolo and choir of non lyrical vocals. Drums and guitars join in with Lullaby's ethereal non lyrical vocals, and then back out to leave just strings with keyboard. This song feels laid back overall, but with a lot of emotion. 

Then a surprise. At 4:45 the outro comes in the form of a hard guitar riff and an awesome guitar solo. 

Single Thought
I think this is my top favorite track on this album. This is another song that has some nice folk melodies. The acoustic guitar and strings really add to the nice and uplifting feel to this song. 
It starts out with a nice acoustic guitar in 6/8. Once the verse hits, we have a time change to 4/4. 

This song just sees Lullaby's vocals with backing choir-like non lyrical vocals. Both sound really beautiful. The string parts throughout this whole song are simply beautiful. 

Starbringer
A strong, upbeat finish to a surprise of an album. Keys and guitars are the main part of the intro, with Saddler kicking off the verse, but Lullaby joins in shortly after.

The strings in the background throughout this track really add a different level to the music. There is a lot of double bass through this song as well which really pushes it along. 

A sweeping, in your face guitar solo comes in at 2:29 which kicks the song to a completely different level.

The song comes back down with keys and strings and Lullaby's light voice to close it out.

Overall, this album really surprised me. On first listen of a few random tracks, I didn't think I'd like it too much, but then I gave it a listen from beginning to end and it really surprised me. There's actually a lot going on musically between the strings, keys, synth, and the rest of the band. As you listen to it more and more, you start to hear different levels of what is going on and it really was enjoyable. I'm always a sucker for strings, but not just random strings here and there. The string arrangements on this whole album, in my humble opinion, are VERY nicely, and none of it comes across as superfluous. 

I'd give this album a 4.0 out of 5.0 rating. If you haven't heard it yet, please give "Prisoner of Emotions" a listen, you won't be sorry!
You can follow the band on Facebook.